About Us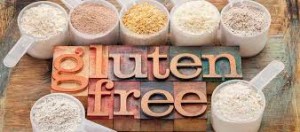 The Gluten Free Grocer says it all and the next paragraph is about us and our beginnings to our current status and it started as the result of a long search for gluten free products for the family of business founders Mitch and Sarah King. What started out as a hunt for tasty food that the whole family could share, soon became a business, preparing and making their own products. From selling to friends and family then at local farmers markets they opened a physical store in Mt Eden. Their aim was provide a one stop shop for people to find quality gluten free products.
Rob & Janine Purkis now own the Gluten Free Grocer and through their online store deliver nationwide.
We would like to take the oppurtunity to welcome you both existing customers and new customers to our all new gluten free website and we would appreciate your feedback on any improvements we can make to help us provide a better gluten free service to you our valued customer. Please bare with us as there will be some changes to our website in the coming weeks and some products may be listed incorrectly however we will contact you before sending your order if any changes need to be made.
Robs Story
"Having sufferd bowel issues due to heavy metal poisoning and resulting in four extremely evasive operations over the last 4 years I finally discovered that I was Gluten Intolerant and made the decision to go Gluten Free which I found hard to start with mainly because my way of thinking was that all gluten free food wouldn't taste nice, well that's not the case and I soon discovered there are a huge range of tasty foods all using gluten free and dairy free products so along with my wife I decided to put our money were our mouths are and purchase a Gluten Free Business.
Janine is witness to the pain and frustration Rob and friends have endured with food intolerance's and allergies and jumped at the opportunity as well to be part of a solution to help them and others alike through Gluten Free Grocer.
The team at Gluten Free Grocer are dedicated to providing the gluten free community with advice, help and encouragement with the day to day challenges, of managing a gluten free lifestyle. Their goal is to provide more healthy, affordable gluten free options, which are free of additives, preservatives, refined ingredients and artificial sugars.
The Gluten Free Grocer only sells products that are made in a totally gluten free kitchen, or products that have been tested to FSANZ standards for NZ and Australia ,and the codex international standard. Both of these standards are considered safe for coeliacs.
"We look forward to bringing you great, quality gluten free products direct to your door."
Rob - Janine & the GFG Team